Home
>
Education
>
Gemstones
>
Polish
Gemstone Polish | Gemstone Education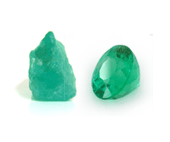 After a natural gemstone is cut to its desired shape, it is polished to a smooth, mirror-like finish. In addition to diamonds, metal oxides such as aluminum oxide (alumina), chromium oxide, cerium oxide, tin oxide, silicon dioxide (tripoli), and ferric oxide (jeweler's rouge) are used to polish gemstones. Different stones polish differently, and therefore, jewelers and gemcutters are constantly looking for new groupings of polishing agents and surfaces.

Darker-colored and opaque precious gemstones can be polished instead of faceted. This is called the cabochon cut, which consists of a smooth, rounded surface with no facets for the light to dance off of. It does, however, create the "cat's eye" and "star" effects, which are equally beautifully in their own way. Polishing gemstones helps bring out their sparkle. Although professional cleaning is preferable, you can polish gemstones yourself, from the comfort of your own home.

© 2015 James Allen - All Rights Reserved.