If you are looking to purchase the perfect diamond studs and give them as a gift to that special someone, consider a fabulous pair of diamond stud earrings. Diamonds have long been considered one of the best gifts to give someone and stud earrings are a classic piece of jewelry. Over the years, they have become a great gift for both males and females. When it comes to diamond stud earrings, there are many great choices. You can find earrings to suit every taste and style.
Here are a few of James Allen's exquisite diamond studs: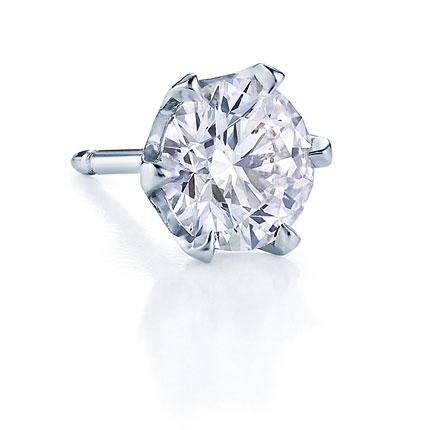 Diamond Studs - 6 Prongs
Perfectly matched round diamond studs set in our exclusive 6-prong Coronet earrings.
Starting at: $850
View Studs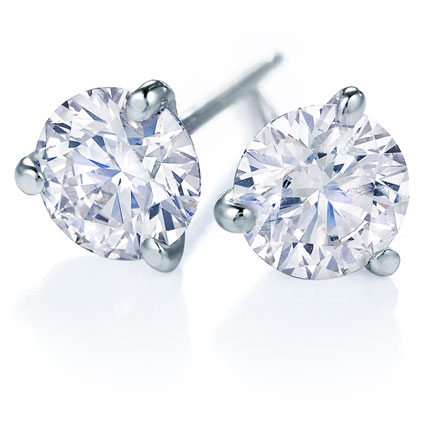 Diamond Studs - 3 Prongs
Perfectly matched round diamonds set in graceful and elegant 3-prong Martini earrings.
Starting at: $380
View Studs
Tips for Finding and Selecting Diamond Studs Earrings
Diamond studs are an attractive gift - one that is sure to get any lady noticed. Classy and elegant, diamond studs earrings are the perfect gift for any occasion. Before you head off to your local jeweler to buy a pair for the lady in your life, consider the following tips for finding attractive white gold diamond studs for a great price.
There are a variety of diamond studs earrings on the market. Consider the following when making a purchase:
What is the shape of her face? If her face is thin, then a round cut diamond studs will look best. If her face is broader in appearance, then princess cut diamond studs will complement her look. You'll want to match up the right diamond for the right face to give her the right look.
What is her skin tone? The metal setting for the diamond should match her skin tone. White gold or platinum sets off a cool skin tone while yellow gold looks great on a woman with a warm skin tone. Don't settle for a cheap setting either - no diamond should be mounted on anything but a quality background.
Did you find the right setting? The snugger the diamond is against the ear, the better. Crown-style settings push the diamond too far out and away from the ear, lending a gangly appearance, while three- and four-prong martini or basket settings look elegant and refined.
When it comes time to shop for diamond studs, visiting your local jeweler is one choice to help you find a pair that she likes. However, the internet is also a place many men like to shop as nothing beats the convenience or value of shopping online.
Key jewelers, including James Allen, have a strong online presence and offer a wide selection of jewelry choices at competitive prices. Low overhead costs mean that the savings are passed on to you. In some cases you will find that the savings can allow you to step up to the next level and purchase earrings with a greater carat weight. The advantage of using a jewelry site like James Allen makes perfect sense: you save money and you get more for the money. Besides, you can even create her pair of diamond studs right online!
No matter whether you shop James Allen or another retailer, diamond studs are a special gift, one that complements her beauty and something that she will certainly cherish for many years to come.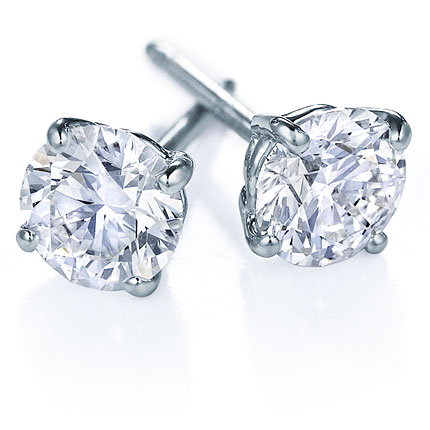 Diamond Studs - 4 Prongs
Perfectly matched round diamond earrings set in simple, timeless 4-prong basket.
Starting at: $340
View Studs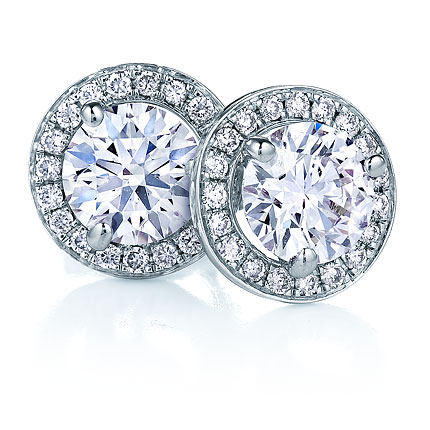 Pavé Diamond Studs
Perfectly matched round diamond studs set into opulent 3-prong pavé earrings.
Starting at: $3,400
View Studs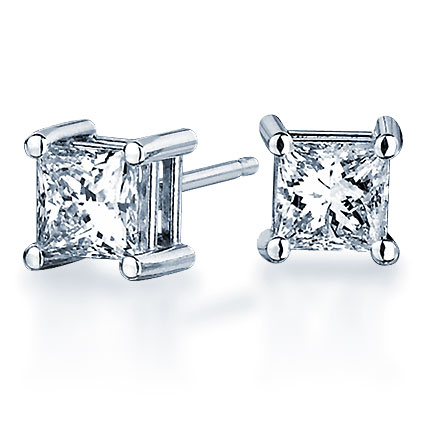 Princess Diamond Studs
Perfectly matched princess cut diamond studs set in classic 4-prong basket earrings.
Starting at: $550
View Studs
Save Money On Your Next Pair Of Diamond Studs
A favorite gift to give for most any special occasion are diamond studs, earrings which look great and can be worn around the house or while attending a wedding or dinner party. Elegant, refined, and stylish, most women already own a pair of diamond studs but a second or third pair is always welcome. Thanks to the internet, you can shop for diamond studs online and save a tremendous amount of money for the same quality diamonds sold by your mall's jeweler. Please read on for some tips on how to safely shop and save money on your next pair of diamond studs.
The internet has changed the way that people shop as the availability of goods has expanded from local selling to a global marketplace. Truly, you can be living in New York and do your online shopping with merchants who are located in Hong Kong, Abu Dhabi, Los Angeles and elsewhere. Lower overhead and stiffer competition has forced prices down, bringing deals to consumers as never seen before.
Even though a website may be selling diamond studs, not all merchants and not all diamond studs are equal. Some things to keep in mind when shopping for diamond studs include:
Types of diamond studs - Princess cut diamonds look great on a woman with a broader face while round diamonds complement the woman whose face is narrow. Choose the setting based on your skin tone, with white gold or platinum enhancing the look of a woman with a cool skin tone and yellow gold matching well with the woman who has a warm skin tone. Visit this skin tone page to determine what your tone is if you are uncertain.
Choice of settings - You'll find plenty of retailers selling diamond studs in a variety of settings, but some settings look much better than others. For example, a crown setting pushes the diamond too far out, giving it a hanging look. Three-prong pave or martini, four-prong basket, or six-prong coronets are well-fitting and look beautiful. Every wedding bride wants the best look on her special day.
Previewing diamond studs - One concern online shoppers have about diamond shopping is previewing the product before making a purchase. Clearly, you cannot hold the studs in your hand but an online merchant such as James Allen has 3D images of all of their products. Click on any image and the diamond studs will rotate giving you the same view you would see if you were at your local jewelry store.
Buying your studs - Some online merchants are experienced jewelers, having gained practice working with customers face to face while others are resellers who are simply trying to capitalize on the marketplace. You'll want to deal directly with a professional jeweler who knows diamonds, stocks his own inventory, and offers generous insurance, shipping and return policies. Never purchase jewelry from an unsecured site and be careful when purchasing your diamonds overseas as you may not be able to enjoy the consumer protection you do here.
Diamond studs make every woman feel and look beautiful, offering brilliance and clarity unlike anything else she will wear. Whether purchased for engagement, wedding, birthday or anniversary, she'll always remember your gift and your warm expression of love!
Design your Diamond Studs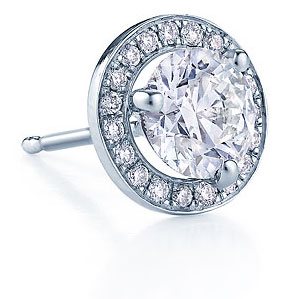 Design Your Own set of diamond studs in the shape, carat weight and quality of your choice.
Design Diamond Studs
Diamond Studs Make for a Timeless Fashion Statement
The Oscars, Emmys, and People's Choice Awards are some of the annual events highlighting the achievements of popular screen, television, and stage stars. Millions of viewers tune in to see who won the latest "Best Picture" or "Best Supporting Actress" award, but there is another reason why audiences are enthralled by such programs - the ostentatious display of glamour is excellent water cooler fodder for the workplace!
Fashion trends are apt to change at the drop of a hat, but some things seem to never change including the selection of jewelry worn, particularly timeless diamond studs earrings. Yes, fresh out of rehab Lindsay Lohan may look stunning in that stunning Dolce & Gabanna silk empire-waist dress, but more often than not she'll choose something like a pair of 14K White Gold Princess Diamond Stud earrings to complement her taste in fashion. Although we can't say nice things about her out of control living, Lohan remains a fashion statement when substance abuse doesn't hold sway.
The advantage of wearing diamond studs is simple: no matter if you are wearing Signature GUESS blue jeans or a Serafina wedding dress, studs always look great on you. What's more, if design your own appeals to you, then you can choose the style and stone that reflects your personality. When selecting build your own earrings, you can mix/match platinum, 14K yellow gold, or a 14K white gold band with your choice of stone. Simply choose either a three-prong or four-prong setting and build your own diamond stud earrings give you the customization you desire.
Of course, karat size matters to most buyers so wearing 3.50 karat diamond jewelry studs when you are gardening may be a bit much. That shouldn't stop you from wearing earrings, but you may find that .25 karat earrings to be more appropriate. Just don't let the fashion police dictate your tastes; Hollywood certainly doesn't!
Guys need not feel left out when it comes to wearing diamond studs. Forest Whitaker has been spotted wearing shirt studs and cuff links while both Jamie Foxx and Tom Cruise have been seen sporting a diamond stud earring while strolling around Los Angeles or New York. No, you won't see much Boy George excess when it comes to guys wearing jewelry, but some men seem to like diamonds almost as much as their lady friends do.
Of course, if water cooler fodder is what you crave then showing up at the workplace wearing a pair of 14K white gold three-prong diamond stud earrings, one karat or more in size will certainly be a conversation starter. Just don't make the mistake of wearing them when your annual review comes up as flaunting personal wealth can adversely impact the raise coming your way!