Home
>
Metals
>
White gold
White Gold Engagement Rings | Engagement Ring Education | JamesAllen.com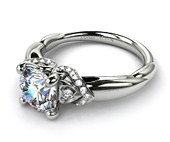 White gold is an incredibly beautiful and popular choice for engagement ring settings, which is quickly becoming the number one choice in engagement ring metals. White gold has the overall look of platinum, but is notably less expensive. White gold beautifully compliments diamonds that are rated D-I on the diamond color scale, as it enhances the brilliance and sparkle of the stone.

White gold is typically alloyed with nickel, zinc, silver, and/or palladium to give it its white color and is often plated with rhodium—a shiny, white metal that is a member of the platinum family—to give it an even whiter appearance and protect it from color loss. Although white gold is not subject to tarnish, it may develop a slightly yellow color over time as a result of its 75% yellow gold content. If this happens, white gold's original beauty can be restored by a simple re-plating.
Caring For White Gold Jewelry
Even though gold is resilient, there are important measures you can take to keep you jewelry looking as good as new. To keep gold shiny and scratch-free, store it in a soft cloth bag or fabric-lined jewelry box. Gold should be cleaned with mild soap and warm water, using a non-metallic, soft brush (like a toothbrush). To retain gold's luster, make sure to keep it away from harmful and corrosive chemicals such as bleach, ammonia and chlorine. And always use a soft, lint-free cloth—never paper towels—to dry the jewelry.

© 2015 James Allen - All Rights Reserved.