Home
>
Metals
>
Rose gold
Rose Gold Engagement Rings | Engagement Ring Education | JamesAllen.com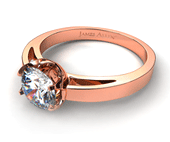 Rose gold is a gold and copper alloy commonly used for specialized jewelry and coveted for its warm, reddish color. Rose gold is also known as red gold and pink gold, and sometimes as Russian gold, as a result of its popularity in Russia in the early 19th century. The difference between red, rose and pink gold is their copper content.

The higher the amount of copper in gold, the more pronounced the red color. Pure gold is a deep yellow color and pure copper is reddish. The color of rose gold is somewhere on the spectrum between the two, depending on its individual composition. A common alloy for Rose gold is composed of 75% gold and 25% copper by mass.
Caring For Rose Gold Jewelry
Even though gold is resilient, there are important measures you can take to keep you jewelry looking as good as new. To keep gold shiny and scratch-free, store it in a soft cloth bag or fabric-lined jewelry box. Gold should be cleaned with mild soap and warm water, using a non-metallic, soft brush (like a toothbrush). To retain gold's luster, make sure to keep it away from harmful and corrosive chemicals such as bleach, ammonia and chlorine. And always use a soft, lint-free cloth—never paper towels—to dry the jewelry.

© 2015 James Allen - All Rights Reserved.