Home
>
Metals
>
14kt gold
14kt Gold Engagement Rings | Engagement Ring Education | JamesAllen.com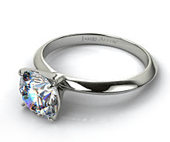 14 karat gold is one of the most popular choices for engagement and wedding rings today. 14kt gold contains 58.3% gold—14 parts gold and 10 parts of an additional metal or combination of metals such as nickel, silver, or copper. 14kt has the advantage of strength and hardness.

14kt gold is less yellow in appearance than 18kt gold (which contains 75% gold). Many people prefer the more subdued, less yellow, appearance of 14kt gold. Because of its hardness and strength, 14kt gold is an excellent choice for people who are physically active or use their hands a lot. 14kt gold is stronger, more scratch-resistant, and less expensive than 18kt gold. 14kt gold is the ideal choice for people on a budget and remains affordable while still maintaining superior quality and beauty. 14K gold never goes out of style!
Caring For 14kt Gold Jewelry
Even though gold is resilient, there are important measures you can take to keep you jewelry looking as good as new. To keep gold shiny and scratch-free, store it in a soft cloth bag or fabric-lined jewelry box. Gold should be cleaned with mild soap and warm water, using a non-metallic, soft brush (like a toothbrush). To retain gold's luster, make sure to keep it away from harmful and corrosive chemicals such as bleach, ammonia and chlorine. And always use a soft, lint-free cloth—never paper towels—to dry the jewelry.

© 2015 James Allen - All Rights Reserved.